Testimonial
"Winterwood Child Care Centre (previously Elizabeth Park Child Care Centre) has been a home away from home for our son. The moment I toured the facilities, I knew this place was special. From the kind and nurturing staff, the thoughtful layout of each playroom, the compassionate and intelligent instruction, and the ways in which parents feel included in the everyday play and fun — all make Global Child Care the perfect fit for us." Maria, Andrew, & Kallum
Testimonial
"When we began the search for a childcare centre we were nervous about leaving our son with anyone for an entire day without knowing them. After visiting multiple centres, they all seemed to offer the same acceptable service. It wasn't until we met with Cheryl and the baby program at Elizabeth Park Child Care Centre that we realized this was how a centre should truly be run. Leaving William with the team at Elizabeth Park is like leaving him with a trusted relative. The staff are caring and kind and always go the extra mile when it comes to meeting our son's needs and telling us about his day. We are so happy that the move to Winterwood is still so close to us - even if it weren't, we would find a way to keep William here. The team is unbelievably supportive. We could not ask for better care for our son."
Mark & Mara Chapeskie
Winterwood Child Care Centre
Formerly Elizabeth Park Child Care Centre
At Winterwood we offer:
A location in the south end of Ottawa in the quiet and safe community of Hunt Club Park
Beautifully renovated, spacious and inviting play rooms located in purpose-built space within St. Marguerite d'Youville School.
Shaded, secure play yards
Nutritious snacks and meals provided by a catering service highly specialized in child care menus
Global Child Care Services is enrolled in the Canada-Wide Early Learning & Child Care (CWELCC) System.
The fees listed below reflect a further 37% reduction for a total reduction of 52.75% as per the CWELCC.  These fees are effective as of December 31, 2022.
INFANT PROGRAM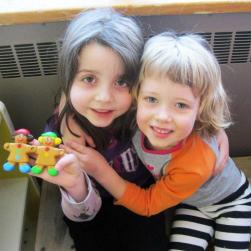 Age Range: 6 – 18 months
Staff/Child Ratio: 1:3  
Program Capacity: 10 children
Monthly Fee: $747.97
TODDLER PROGRAM
Age Range: 18 months – 2 1/2 years
Staff/Child Ratio: 1:5  
Program Capacity: 15 children
Monthly Fee: $654.89
PRESCHOOL PROGRAM
Age Range: 2 1/2 – 4 years
Staff/Child Ratio: 1:8  
Program Capacity: 32 children (junior and senior preschool rooms)
Fee: $509.36
Other Special Features
Formerly "Elizabeth Park Child Care Centre" which was located in Uplands Catholic School for 30 years

Nearby parks and the quiet setting of this community afford countless outdoor excursion opportunities for peaceful nature walks

The children regularly enjoy special guests invited to the centre to enhance learning and fun — from puppeteers to portable petting zoos to firefighters to science experts
Hours of Operation
7 a.m. to 5:30 p.m., Monday to Friday We are open year-round, excluding Statutory Holidays
Want to Learn More about Winterwood Child Care Centre?
If you're interested in learning more about current space availability, our waiting list, the programming we offer, or to book a tour of the centre, please contact us. We are proud of our centre and we'd love to hear from you.
Wait List Information
Global Child Care Services uses the City of Ottawa Child Care Registry and Wait List ("CCRAW") as its wait list for its Child Care Centres and its Home Child Care program. Global Child Care Services does not maintain wait lists separate from CCRAW for its child care programs
Contact Info
Winterwood Child Care Centre
89-B Lorry Greenberg Drive
Ottawa, ON
K1T 3J6
613-738-7714
adminww@gccs.ca