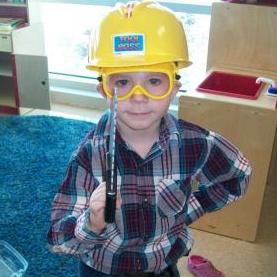 Are you a community member who would you like to support our work with a donation?
Are you a client who would like a special way to say thank you for the care your child has received?
Global Child Care Services is a registered charity (# 10741 4963 RR0001), and we gratefully accept financial donations to support and enhance our good work with children. Income tax receipts are issued for all donations.
There are many ways your financial donation can be put to good use at Global Child Care Services, and please know that 100% of your donation, large or small, goes directly into the play spaces, toys, equipment and program delivery of our early learning and child care environments.
If you would like your donation targeted in a specific way within our agency (for example, to benefit the program in which your child is/was enrolled), we'd be pleased to discuss this with you. Please contact our Head Office at 613-742-5500 and ask to speak with the Executive Director or the Director of Finance.
Cheques should be made payable to "Global Child Care Services" and mailed to our head office location:
Global Child Care Services
Attn: Director of Finance
1714 Montreal Road
Ottawa, Ontario
K1J 6N5
An income tax receipt will be mailed to you at the address you indicate.
We thank you for thinking of us!