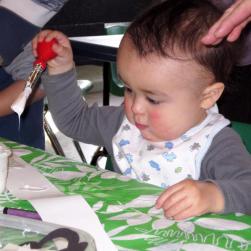 Every week in a variety of locations throughout the Ottawa area, experienced Registered Early Childhood Educators and family resource workers from Global's Community Outreach Program create welcoming early learning drop-in environments filled with stimulating activities for infants, toddlers and preschoolers.
Parents, grandparents and caregivers enjoy a relaxed atmosphere in which to share and connect. Young children not yet in school or child care enjoy an enriched play and learning experience, exploring in a safe, supervised and loosely structured program.  Our Community Outreach team delivers early learning programming that is based on Ontario's pedagogical framework called How Does Learning Happen?, where play is respected as the primary vehicle for learning.
Attendance at Global's EarlyON Drop-ins is free of charge for you and your children.  Global's Community Outreach program is funded by the City of Ottawa as a provincial EarlyON Child & Family program.
For more information about our EarlyON Drop-ins, call 613-742-5500. 
Drop-in Locations
From January to June
Neighbourhood

Address

Schedule

Orleans - Chapel Hill

Orleans Resurrection Lutheran Church
1325 Gaultois Avenue
Google Maps
Tuesdays
January 7, 2020 - June 16, 2020
9 a.m. to 11 a.m.

Closed. Reopening Date TBD

Orleans - Fallingbrook

NEW!

Fallingbrook Community Elementary School
679 Deancourt Cres.
Google Maps
Wednesdays
January 8, 2020 - June 17, 2020
9:15 a.m. to 11 a.m.

Closed. Reopening Date TBD

Blackburn Hamlet

Blackburn Hamlet Community Centre
190 Glen Park Drive
Google Maps
Tuesdays and Thursdays
January 7, 2020 - June 18, 2020
9 a.m. to 11 a.m.

Closed. Reopening Date TBD

Riverside South

Rideauview Community Centre
4310 Shoreline Drive
Google Maps
Mondays and Fridays
January 6, 2020 - June 19, 2020
9 a.m. to 11 a.m.

Closed. Reopening Date TBD

Afternoon Baby Drop-in (0-24 months)
Mondays
January 6, 2020 - June 15, 2020
12:30 p.m. to 2:30 p.m.

Closed. Reopening Date TBD

South (Gloucester)

Fred G. Barrett Arena - Lions Hall
3280 Leitrim Rd
Google Maps
Mondays and Fridays
January 6, 2020 - June 19, 2020
9 a.m. to 11 a.m.

Closed. Reopening Date TBD

Manotick

St. James Anglican Church
1138 Bridge Street
Google Maps
Thursdays
January 9, 2020 - June 18, 2020
9 a.m. to 11 a.m.

Closed. Reopening Date TBD

Ogilvie

Epiphany Anglican Church
1290 Ogilvie Road
Google Maps
Wednesdays
January 8, 2020 - June 17, 2020
9 a.m. to 11 a.m.

Closed. Reopening Date TBD

Pineview

NEW!

Pineview Community Hub
1700 Blair Road
Google Maps
Tuesdays
January 7, 2020 - June 16, 2020
9 a.m. to 11 a.m.

Closed. Reopening Date TBD